Welcome to Catechesis of the
Good Shepherd
Western Australia
The Catechesis of the Good Shepherd provides a sacred space for Christian faith formation of children aged 3 to 12 years.
It is like a retreat centre for children, providing a place where they can form a personal relationship with Jesus, the Good Shepherd.
The Catechesis of the Good Shepherd WA provides times in the atrium for children weekly throughout the year, as well as formation and faith enrichment for adults and sacramental retreats.
The children are free to work with these materials that represent essential proclamations of the Christian message.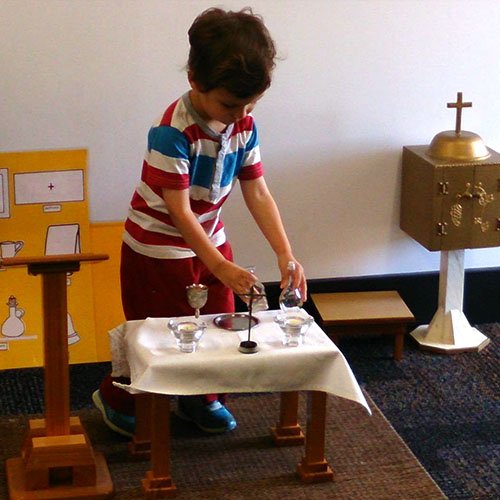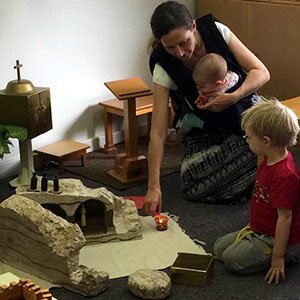 The Catechesis is grounded in scriptural and liturgical study framed by Maria Montessori's principles of education.
This allows children to hear the Gospel through the use of sensory-rich materials.
The atrium is a place of community and worship rather than a classroom for academic study.
It is a place to be with and enjoy God, listen to the Word, and to pray.
It is designed to reflect the beauty of creation and God's abiding love.
If we want to help the child draw nearer to God, we should with patience and courage seek to go always closer to the vital nucleus of things. This requires study and prayer. The children will be our teachers if we know how to observe them.
Sofia Cavalletti
The Catechesis of the Good Shepherd began in Rome in 1954.
Inspired by the work of Maria Montessori and through careful observation of children, Sofia Cavalletti and Giana Gobbi carefully prepared materials and created a sacred space for children to discover and build a relationship with Jesus the Good Shepherd.
The Catechesis of the Good Shepherd has atriums in many countries throughout the world.
It has been in Australia since 1995 and in Perth since 2001.
The child, particularly the religious life of the child, is central to the interest and commitment of the catechist of the Good Shepherd.
Characteristic #1